Ghana Independence Day: After 83 years of British colonial rule, Ghana established itself as an independent African nation on 6 March 1957. Today, more than 30 million people and more than 90 ethnic groups call this dazzling sub-Saharan country home. And another 1.7 million Ghanaians living abroad often visit family and friends.
For the people of Ghana, Independence Day holds a special place in their hearts. Many can still remember the first Prime Minister, Kwame Nkrumah's powerful speech on Ghanaian independence in Accra, as the British flag was brought down and replaced by the new Ghanaian flag. And over the years, foreign dignitaries including Martin Luther King Jr. have visited the country to participate in the celebrations.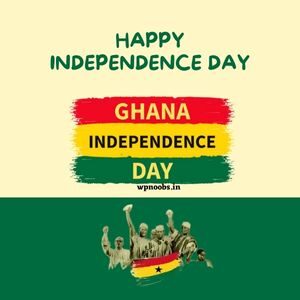 Ghana Independence Day: Before Independence Day, Ghana was known as Gold Coast. The name, originally coined by Portuguese traders, continued under British rule. The name was fitting for the colonial powers, as the region was rich in gold, ivory, and other natural resources.
After World War II, Britain's power over its colonies began to weaken. Pan-African nationalism further encouraged the fight for independence. Over time, various local politicians fought back.
The United Gold Coast Convention called for independence in 1947, and by 1952, Osagyefo Kwame Nkrumah led the United Gold Coast government.
On March 6, 1957, Ghana was the first country in sub-Saharan Africa to gain independence. And it inspired other African countries to continue their struggle for independence.
Ghana celebrates this historic occasion every year with parades, marches and fireworks.
Hip-hop and traditional West African music and dance are combined to celebrate Independence Day in the coastal region. Since the time of former President Kwame Nkrumah, other presidents from neighboring African countries and Europe have been invited to the country to participate in the festivities as speakers or visitors.
Shama, a fishing community, hosts a famous regatta tournament.
Location of Black Star Square
Every year the Independence Day parade takes place in the Black Star Square, also known as Independence Square, in the country's capital, Accra. However, in the past few years, the celebration has also taken place in separate cities, Tamale and Kumasi for the first time. But Black Star Square is still a popular celebration site, regardless of where the parade takes place.
Since Independence Day is a public holiday, it is a great time to relax with friends and family. Apart from watching the solidarity speech given by the current President of Ghana, Ghanaians can relax, enjoy delicious food and participate in local festivities.
Deep significance of the flag of Ghana
It is common to see citizens waving or raising the Ghanaian flag during independence celebrations. The symbolism is directly linked to the country's struggle for independence:
The black star represents African independence
Red color is used to remember the freedom fighters
Gold symbolizes the minerals found in abundance in Ghana
Green represents beautiful forests and wildlife
It is important to remember Ghana's past
Many Ghanaians may choose to remember the struggle for independence in Ghana during the Independence Day holiday. Whether its singing songs about independence, listening to Kwame Nkrumah's speeches, or reading Martin Luther King Jr.'s account of Ghana's struggle in The Birth of a Nation, Ghana's past inside and outside There are many ways to remember.
Independence removed the "British Gold Coast"
Independence Day in Ghana is also the day the country dropped the colonial name "British Gold Coast".
Ghana literally means "warrior", and was the name of an ancient civilization that also included Mauritania, Senegal, and Mali.
Every Independence Day has a theme
Each Independence Day celebration is given a theme, and is usually a collection of national and local events to celebrate the day. This may include fitness campaigns, trivia competitions, prayer sessions, parades and commemorations.
Feel the pride of being a part of such a glorious Nation. Here are my warm wishes for this auspicious day. Happy Ghana Independence Day.
Be the cause of unity. Fight against corruption. Flair the flag of our nation, Happy Ghana Independence Day.
Celebrate the day with a bunch of silent prayers for those who have made it possible for us to live in a free nation. Happy Ghana Independence Day.
Carried with care, coated with prie, dipped in love, fly in glory, moments of freedom in shade of joy. Proud to be an Indian. Happy Ghana Independence Day.
Let us rejoice the happiness and indulge ourselves in the celebration. Salutinh them who made it possible. Happy Ghana Independence Day.
Let us make this day our inspiration to stand high and mighty. Be proud to be a Ghana. Happy Ghana Independence Day.
Freedom is one of the most expensive commodities. No amount of money will be enough to buy freedom. Happy Ghana Independence Day.
It is the result of sacrifices and struggles of many brave. Let us reverence them today. Happy Ghana Independence Day.
The Ghana flag does not fly because the wind moves it. It flies with pride and prosperity.
Freedom in the mind, faith in the words, pride in our soils. Let's salute the nation on this day Independence Day!